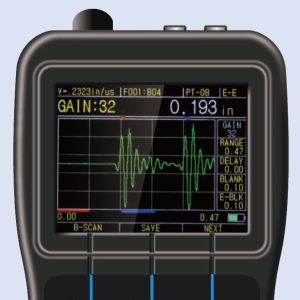 Accur series: Ultrasonic thickness gauges
The ultrsonic thickness gauges are characterized by high measuring accuracy as well as stability. Accur devices are suitable for application with laminated materials. Perfect applications for thickness measurements with ultrasound are e.g. in the petrochemical industry, power supply or manufacturing industry.
Accur-1

is a simple to use, high accurate and portable ultrasonic thickness gauge.

It measures quickly, non-destructive and precisely with a resolution of 0.01mm / 0.1mm.

Accur-1 devices are used in the manufacturing industry and in the chemical industriy to measure the thickness of various kinds of materials. Apart from the measurement of plates and processing components, whall thickness measurements of pipes, process pipelines and pressure vessels of in production facilities can be realized.
Accur-5 / 7

are portable ultrasonic thickness gauges which are equipped with OLED-display, big data storage and the ability of thickness measurement of coated materials with high measuring accuracy.

Applications are the exact measurement of plates, sheets and components in the manufacturing industry, metal working and chemical industry. Furthermore Accur-5 can be used for wall thickness measurements.

Accur-5 devices are made with A-Scan-function, to avoid incorrect measuring results. The data storage for up to 100,000 measuring values can be sent to a PC via USB-interface.
Function
Accur
-5
Accur
-5D
Accur
-5DL
Accur
-5P
Accur
-5PD
Accur
-5PDL / 7
Accur-1

Display

Colour display, 2.4" colour OLED, 320 x 240 Pixel, contrast 10.000 : 1
128 x 64 Pixel,
LCD, 42 x 57mm
Measuring range /
resolution
adjustable 0.01mm, 0.1mm
Thickness <100mm:
0.01mm or 0.1mm,

Thickness >100mm:
0.1mm

Measuring error

from min. thickness up to 10mm: 0.1mm
from 100mm up to max. thickness: 1% of thickness +0.1mm
from min. thickness up to 10mm:
0.1mm

from 100mm up to max. thickness:
1% of thickness +0.1mm

Display of connection

white numbers: connected, green numbers: not connected
Display of connection tag

Sound velocity in materials

500 - 999m/s (0.0197 - 0.3937inch/microsec)
1000 - 9999m/s

Working principle

Transmitter = Receiver with dual probe
Pulse-Echo and Echo-Echo
with dual probe

V-Path

automatically
automatically
PRF (Pulse Repetition
Frequency)
adjustable, 4Hz, 8Hz, 16Hz
4Hz

Alarm settings

Minimum and maximum-Alarm: 0.5mm - 500mm.
Alarm display with colour changes or dynamic waves
Max- und Minwert, bei
Wert außer Toleranz -
Alarm

Measurement units

mm or inch
mm or inch

Operating time

approx. 40h
approx. 40h

Batteries

2 x 1.5V, AA
2 x 1.5V, AA

Switch-off modi

always ON or automaticall OFF after 5, 10, 20min without operation
automatically OFF after 5min
without operation

Operating temperatures

-10°C up to +50°C
-10°C up to +60°C

Dimensions

153mm x 76mm x 37mm (H x W x D)
149mm x 73mm x 32mm
(H x W x D)

Weight

280g with batteries
280g with batteries

Language

Chinese, English, Japanese, French, German
English, Chinese

Standard probe

DT-05 Dual probe (5MHz)
DT-05 Dual probe (5MHz)

further available probes

no
no
no
no
DT-10,
PT-02,
DL-15
DT-10,
PT-02,
DL-15
DT-02, DT-10
through paint and coatings
measurement (Echo-Echo-
mode)
no
no
no
yes
yes
yes
3mm up to 18mm

A-Scan live

no
yes
yes
no
yes
yes
no

Time based B-Scan

no
yes
yes
no
yes
yes
no

Adjustable gain

no
no
no
no
yes
yes
no

Min / Max Capture

yes
yes
yes
no
yes
yes
only minimum

Diff. display




(Value and %)

yes
yes
yes
no
yes
yes
no

Data Logger

no
no
yes
no
no
yes
yes

Data Logger capacity

400 files each
252 val.
400 files each
252 val.
500 values in 5 files
PC-Software for
data display
no
no
no
no
no
yes
optional

Interface

no
no
USB 2.0
no
no
USB 2.0
RS232 (optional)