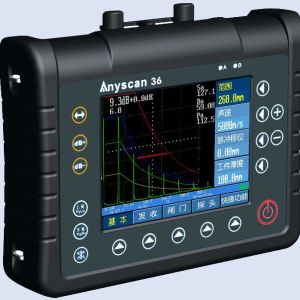 Anyscan: Ultrasonic flaw detectors
The portable and digital ultrasonic flaw detectors Anyscan detect various flaws in materials as well as surface flaws (e.g. invisible cracks, inclusions and porosities) - fast and precisely.
| | | | | |
| --- | --- | --- | --- | --- |
| | | | | |
| Waterproof | Aseismic | Shutter resistant | Dust protected | High precision |
Anyscan 30 & Anyscan 36

Ultrasound inspections of materials mean non-destructive detections of flaws, like cracks, inclusions or voids, in metals, nonmetals as well as composite materials.

Anyscan-devices are used for the inspection of material within quality control measures, e.g. product control in the industry, metal processing, in steelworks or in the chemical industry.

Even in industries with highest safetey standards like aviation or railway transportation, Anyscan ultrasound flaw detectors test components and assemblies to determine the actual condition. The results help to evaluate the life cycle of these components.
Anyscan ultrasound flaw detectors are compact, shockproof, intuitive and provide reliable measuring results.
Function
Anyscan 30
Anyscan 36
General

Display size

5.7" High Brightness TFT

Pixel Resolution

640 x 480 pixels

Dimension

21.5cm x 5.8cm x 17cm

Linearity error (horizontal)

≤ 0.1%

Linearity erro (vertical)

≤ 3%

Surplus sensitivity

≥ 62 dB

Dynamic range

≥ 40 dB

Far field resolution

≥ 30 dB

Operating method

Single or Dual elements

Working frequency

0.5 ~ 22 MHz

Menu language

German, English, Chinese

Connectors

Transducer connectors

LEMO or BNC

USB interface

USB connector

Pulser

Transmit Pulse

400V Negative Spike Wave
400V Square Wave / Negative Spike Wave

Pulse Repetition Frequency




(PRF)

40 / 250 / 1000Hz (Optional)

Damping

50 / 100 / 200 / 500Ω

Sampling Frequency

400MHz Hardware Real-time sampling

Velocity Range

1000 ~ 1500m/s, adjustable

Scan Delay

-10 ~ 5000mm, adjustable

Probe Delay

0.00 ~ 199.9μs
Receiver

Detection Range

0.5 ~ 15000mm

Gain

0 ~ 110dB, with 0 / 0.1 / 0.5 / 1.0 / 2.0 / 6.0dB Schritten

Rectification

Positive, Negative, Full-Wave, RF
Gate

Alarm

Hardware, Voice & Light alarms, DAC, Positive and Negative modes

Measurements

Flank & Peak
Memory

Capacity

save up to 500 groups-data

Report

Test results, daily-use parameters
Environmental

Operating temperature

-10 ~ +50°C

Battery type

Lithium battery

Battery life

6h

Power supply

AC: 100 ~ 240V; DC: 15V ~ 4A

Weight

1.4kg with battery

Environmental Protection

IP54