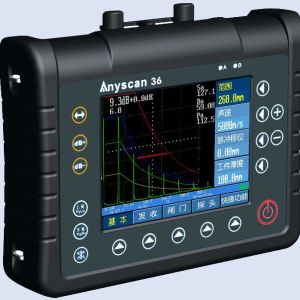 Anyscan: Ultrasonic flaw detectors
The portable and digital ultrasound flaw detectors Anyscan detects various flaws in materials as well as surface flaws (e.g. invisible cracks, inclusions and porosities) - fast and precisely.
| | | | | |
| --- | --- | --- | --- | --- |
| | | | | |
| Waterproof | Aseismic | Shatter resistant | Dust-protected | High-precision |
AnyScan
Ultrasound inspections of materials mean non-destructive detections of flaws, like cracks, inclusions or voids, in metals, nonmetals as well as composite materials.

Anyscan-devices are used for the inspection of material within quality control measures, e.g. product control in the industry, metal processing, in steelworks or in the chemical industry.

Even in industries with highest safetey standards like aviation or railway transportation, Anyscan ultrasound flaw detectors test components and assemblies to determine the actual condition. The results help to evaluate the life cycle of these components.

Anyscan ultrasound flaw detectors are compact, shockproof, intuitive and provide reliable measuring results.
Features:
intuitive control elements
various assistand function to support the operator
400 MHz-real time sampling
low-noise amplifying circuit, selectable damping, excellent matching with low or high frequency probes
EMI-Design
5,7" high-resolution LCD colour display
integrated Lithium batteries for an operation up to 8 hours