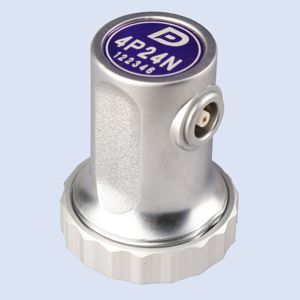 Ultrasonic probes
For various applications of ultrasonic inspections we offer a set of conventional ultrasonic probes, e.g. standard, angled, dual, immersion. Please contact us. We advise you for your individual inspection project.
Following probes are only a short overview about our range of probes. Please download the UT probe catalog to get more information.
Normal probe
standard type
suitable for the inspection of simple structured metals
for example for the detection of flaws in plates and casting parts
Angle probe
suitable for the inspection of welded joints
applicable for flaw detection of pipes, pressure vessels and storage tanks
testing of turbine blades, forgings, wheel axles of rail vehicles, railway tracks
Protective membrane probe
suitable for large parts which have a simple construction
e.g. for the inspection of forgings, casting parts, plates and bars
Dual probe
applicable for wall thickness measurements to determine the corrosion
flaw detection of material surfaces
flaw detection of small parts, e.g. screwss and pins
for the inspection of bonded surfaces
suitable for the detection of internal defects in axles, bars or track wheels
Immersion probe
applicable for the inspection of parts with irregular or complex design and shape
for inspection which have to be conducted in immersion bath
for flaw detection which requires a high resolution
For the download of the complete UT probe catalog, please click here.