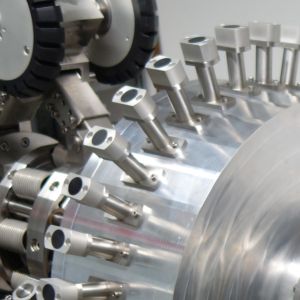 OptiSonic: The ultrasonic inspection system for pipelines
Ultrasound suits best for non-destructive testing to determine the wall thickness of materials and to check the condition of welds when only one side is accessible for testing, e.g. internal inspection of metallic pipelines.
OptiSonic is a reliable ultrasonic inspection system for the measurement of the residual wall thickness and weld seams of metallic pipes using piezoelectric ultrasonic sensors for nominal pipe diameters of 400mm - 1200mm (16" - 48").
It provides operators neccessary information for condition assessment of the pipelines.
The sensor development and adaptation for the OptiSonic ultrasonic inspection systems is carried out by our engineers, customized for your application.
The analysis and the administration of the measurement data are done with a special evaluation software - OptiSonic View & Report.
OptiSonic is your decision-making support for rehabilitation or new installation of pipelines in various industrial applications, in the oil and gas sector, in energy supply, ...
Applications, examples:
District heating pipes
Loading lines for crude oil and liquid oil products
Connecting pipes between platforms
Seawater intakes for use with crude oil production
System configuration of the OptiSonic system:
Measuring probes:




ROM400 (400mm - 700mm / 16" - 28")




ROM800 (800mm - 1200mm / 32" - 48")

Power supply unit STE200 with




Remote control unit BEP ROM

Motorized cable drum




KTR400-E/ROM

Administration & Evaluation Software




OptiSonic View & Report
Technical Data of the measuring probes:
Probe with rotating ultrasonic sensor ring, based on piezo-electric ultrasound
Operation range: 400mm - 1200mm (16" - 48")
Measuring values: inner pipe contour, remaining wall thickness
Measurable damages: dents, interior and exterior corrosion, laminations, deformations
Suitable for short and medium distances and depending on the pipe diameter for 1.5D elbows
Heavy-duty cameras with LED illumination for the optical monitoring and assistance of the inspection works